Case: Lucent Technologies 1996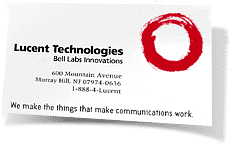 THE STORY
In 1995, AT&T dedided to split in three, by spinning out its computer business (to be renamed NCR), and all of its telecommunications manufacturing businesses, whose potential customers included all of AT&T's competitors in telecom services. This new company, whose $22 billion IPO would be the largest yet in history, needed a new name.
Rebranding, in fact, was an immediate and urgent priority for the new management team of Henry Schacte, Richard McGinn and Carly Fiorina. Landor was retained for its global network, big-client experience and speed commitment. Barred from using the Bell and AT&T brands, management opted for a "clean break" strategy, an expression of freedom and self-determination. The branding goals: retain "quality, reliability, technological innovation and stature," add "speed, energy, flexibility," but lose "slow, arrogant, inflexible."
The name "Lucent," an evocative real word meaning light-bearing, and the abstract red "ring of innovation" symbol met these strategic and and emotional goals in dramatic fashion.
Two descriptive tag lines were used, to retain historic equity and define the new scope of the enterprise -- "Bell Labs Innovations," and "We make the things that make communications work." A formal name extension, "Technologies," provided another way to communicate core competence. Five units were defined and named, and a monolithic signature system would help assure that all employees would help to build the new brand. The employee launch was a live global internal video conference from HQ, supported then by a sustained $80 million ad campaign.
CREDITS
Landor
CASE INFO
Submitted by: Tony Spaeth, 8/04/2007
Status: Estimated by Tony Spaeth
Category: Technology Hardware & Equipment
Country (HQ): United States

MATRIX DATA
DRIVERS

TOOLS

Structural driver: 50%
Spinout or de-acquisition
Preserve existing equity
5%
x
Identity system elements: Verbal elements: Formal/legal names
x
Identity system elements: Verbal elements: Tag lines
x
Situation facts: Corporate level facts: History
x
Change event : High visibility: Campaign
Spinout or de-acquisition
Express a new vision
45%
x
Identifier tactics: Name change: Borrowed words
x
Identifier tactics: Logo change: Symbol-dominant
x
Identity system elements: Visual system: Typography
x
Identity system elements: Visual system: Graphic devices
x
Identity system elements: Visual system: Palette
x
Identity system elements: Verbal elements: Principal unit names or competence list
x
Identity system elements: Verbal elements: Tag lines
x
Change event : High visibility: Campaign
Strategic driver: 50%
Change direction
Redefine industry or core competence
10%
x
Identity system elements: Verbal elements: Formal/legal names
x
Identity system elements: Verbal elements: Principal unit names or competence list
x
Identity system elements: Verbal elements: Tag lines
x
Situation facts: Subcorporate facts: Defining units
Change internal culture
Enhance pride & confidence
10%
x
Identifier tactics: Name change: Borrowed words
x
Identifier tactics: Logo change: Symbol-dominant
x
Identity system elements: Visual system: Typography
x
Identity system elements: Visual system: Graphic devices
x
Identity system elements: Visual system: Palette
x
Change event : High visibility: Campaign
Change internal culture
Transfer affiliation from unit to parent
10%
x
Identifier tactics: Name change: Borrowed words
x
Identifier tactics: Logo change: Symbol-dominant
x
Identity system elements: Verbal elements: Principal unit names or competence list
x
Identity system elements: Verbal elements: Tag lines
x
Identity system elements: Unit signature system: Monolithic
Change expressed personality
Renew/refresh public image
30%
x
Identifier tactics: Name change: Borrowed words
x
Identifier tactics: Logo change: Symbol-dominant
x
Identity system elements: Visual system: Typography
x
Identity system elements: Visual system: Graphic devices
x
Identity system elements: Visual system: Palette
x
Identity system elements: Verbal elements: Formal/legal names
x
Identity system elements: Verbal elements: Principal unit names or competence list
x
Identity system elements: Verbal elements: Tag lines
x
Change event : High visibility: Campaign